The last leg of the Aspen nine begins with Aspen 7, a short but challenging par 4. The tee shot plays extremely uphill and requires some air under the ball in order to reach the fairway, which has a saddle-type feel to it. The large spruce tree seen from the tee is a perfect aiming point, but it also provides the hole some protection. You will find yourself in a sticky situation if you happen to end up behind it. Your approach shot will play at least a 1/2 club longer, as the green continues the elevation trend of this hole. Bunkers surround this green to catch all miss-hit or mis-yardaged shots. Once on the green, the slopes and breaks are subtle, but make no mistake – it still has the essence of IGC in it.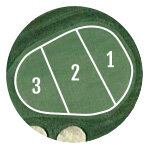 Booking Policy
It is imperative that our Members & Guests abide by the below protocols as failure to do so will result in the individual(s) being removed from the facility. We must all become socially responsible for our actions and behaviour so golf can remain open for the enjoyment of all, through these challenging times.
Update on the golf course and 27 holes of operation (when applicable):
We have begun operating on an 18-hole course and a 9-hole course on a rotational basis.
Tee times on the 18-hole course will run from 7:00 am- 7:00 pm
Tee times on the 9-hole course will run from 10:00 am- 7:00 pm at 5 minute interval tee time
The 9-hole course will be utilized for single play only.
We encourage anyone only wanting to play 9 holes to book on the 9 hole course, allowing for more 18 hole rounds
Carts will not be permitted in the parking lot, the reasons are for liability, insurance, and to maintain better social distancing.
Booking your Tee-Time
As in years past, we have made some improvements to our in-house tee time system to help better serve all of our patrons, members, and public alike.
Booking by telephone (403)227-3444 ext. 2
Bookings will be available starting 7:00 AM - 8 days in advance (for Members) and 7 days in advance (for the public), with only one person from the group making the reservation.
Players may only golf with those who live in the same household, or if the person lives alone, they may golf with two other players, both of whom must be in that player's "close-contact" group.
Players playing in "singles" will be limited to playing on the 9-hole course at this time.