One of the most spectacular views of the Central Alberta prairies greets you as you step up on the tee of Aspen 3. A drastic downhill tee shot requires a long iron or fairway metal to avoid running into the pond, which also guards the left side of the green. Your approach shot has to be judged correctly depending on the pin position, as a large bowl in the middle of the green will penalize any miscalculations and make putting quite the challenge.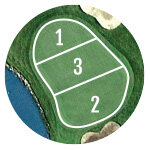 Booking Policy
Booking your Tee-Time
As in years past, we have made some improvements to our in-house tee time system to help better serve all of our patrons, members, and public alike.
Booking will be Online or by telephone (403)227-3444 ext. 2
Bookings will be available 8 days in advance (for Members) and 7 days in advance (for the public), with only one person from the group making the reservation.
All tee times are confirmed with a credit card. In the event golfers do not show up for a scheduled tee time, that credit card will be charged. If individual profiles are included in the booking, each profile may be charged. If only one profile is associated with the booking, that profile will be responsible and charged for all no-shows and/or reductions.
MEMBERS
Please Remember: "No Shows" are extremely expensive for the Golf Club. If you cannot make your tee-time, please cancel it to give us an opportunity to fill or assign it to another customer. In the case of more than one infraction of "No Showing" or showing up with less than the booked for group size, a $35 charge will be applied to your account.